All's fair in love and war…especially when there's $1 million at stake. 
MTV's Are You the One? wrapped its seventh season on Wednesday night, bringing to a close another season of endless inebriated head vs. heart discussions when it comes to finding love. Wait, what's that? You've never really watched AYTO? or heard of it? Well, let us tell you, you are missing out and it's worth using this off-season Bachelor time to dip a toe in the Are You the One? waters for a bit. Fair warning: they might be a little polluted. 
It's sort of like the UK's wildly popular Love Island but with a lot more booze and without the charming accents, or any modicum of decency. What we're saying is it's the ultimate guilty pleasure reality show—heavy on the guilt. 
So before we see if it actually works, let's see how this "algorithm" actually works. First, thousands of young and hot hopeful social media influencers romantics apply, with the casting department whittling that number down significantly early on in the process. Then the producers get to work, using a combination of science, matchmakers and the contestants' friends, family and exes to find the best pairings. 
"The methods came from a combo of scientifically proven compatibility testing, as well as straight matchmaking," executive producer Tiffany Williams revealed in an Entertainment Weekly interview. "The matchmakers got pretty deep into all of the contestants' past relationship history, so they would do these interviews with the contestants and their family, friends, and exes. All that information was combined and analyzed."
The matchmakers, by the way, are a licensed marriage therapist and a holistic psychologist.
Once all of the data is used to create the 11 perfect matches, the 22 contestants are placed in a house together, left to their own devices to find their perfect matches. If they are successful by the end of the season, they split $1 million dollars. Along the way, they drink, hookup, fight, go on dates, rinse, lather, repeat. 
Throughout AYTO's seven-season run, just one season has failed to win the money (though one cast had their prize money cut in half with then suffered a "black-out" aka they failed to find any perfect matches one week), and while it wasn't looking good for season seven's cast heading into last night's finale, with just two confirmed perfect matches, they pulled off a miracle. The idiots actually won the damn money!
But did they also find true love? 
That remains TBD as the reunion show airs next week and will reveal which of the couples—if any—are still together, and if any no matches have decided to throw caution (and matchmaking science) to the wind and give it a shot in the real world. 
While Are You The One? isn't exactly the classiest dating show around (Sorry, there's just no nicer way to say that), it has had some surprising success when it comes to its couples. Well, there is one interesting thing to note: One one confirmed perfect match is still together, while the rest of the pairs that met through the show are either no matches or were on different seasons completely.
Here are the couples that have managed to stay together or find love after MTV's cameras stopped rolling and the beams powered down…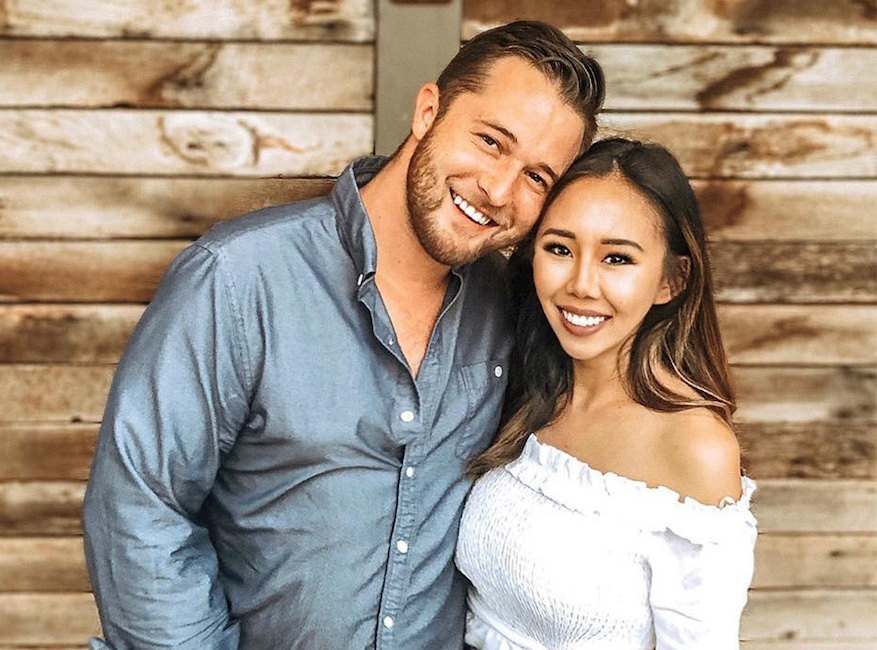 Instagram
Ethan and Amber Diamond

The gold standard for AYTO, this season one perfect match has actually been married for over four years and has two children. Scarlet, 3, helped the couple welcome little sister, Serena, this past June. Oh, and they are actually the only perfect match (meaning they were paired by the experts FYI) that are still together post-show.
"As the only matched couple that has made it from Are You The One? , everyone's always asking what our secret is. Well here it is: Selflessness," Amber wrote on Instagram. "You do things to build each other up, not restrict or tear each other down. I always strive to help Ethan reach his potential – and I don't even hesitate to make sacrifices cause I know he'll do the same for me."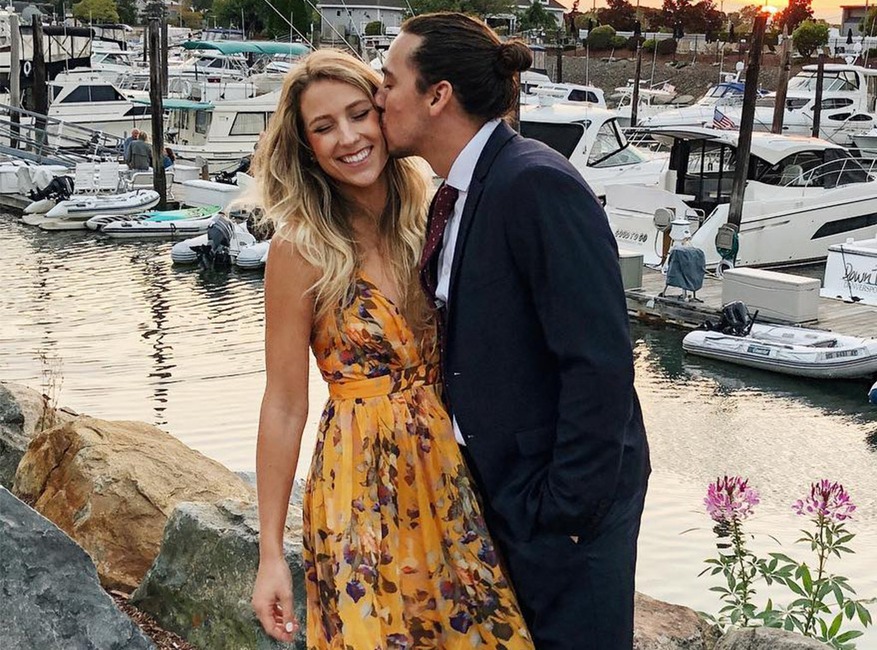 Instagram
Jenni Knapmiller and Curtis Hadzicki

Sometimes love takes time and these two are the perfect example of that. Though they weren't super into each other during filming on season two, they connected once production wrapped…and revealed at the reunion they were dating and have been together ever since. Warning: their Instagrams will give you wanderlust.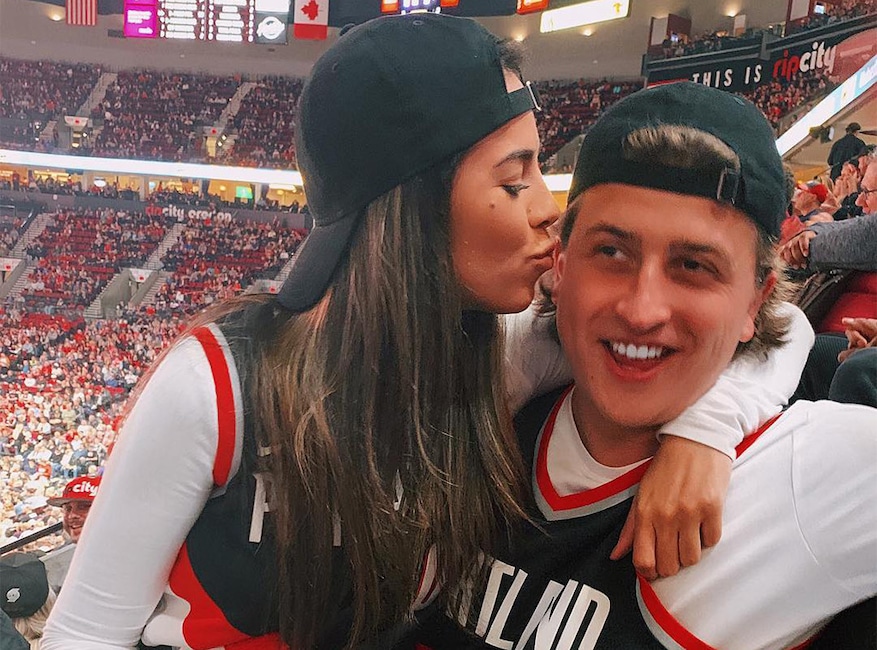 Instagram
Mikala Thomas and Joe Torgerson

While they didn't compete on the same season, the two alums struck up a friendship and revealed they were dating in August.
"Secrets out.. I wanted to keep this one close to my heart where it was safe," Mikala wrote on Instagram. "But hiding my relationship for 8 months is long enough."
Mikala competed on season four and was in a fan-favorite pairing with Cameron after the two were the show's  earlier confirmed perfect match ever. They split in early 2017.
Joe, meanwhile, appeared on season six, during which it was revealed he had once dated Taylor from season five. Yeah, this show is kind of incestuous, with the web getting even more tangled when we get to Joe's season six "perfect match" Uche…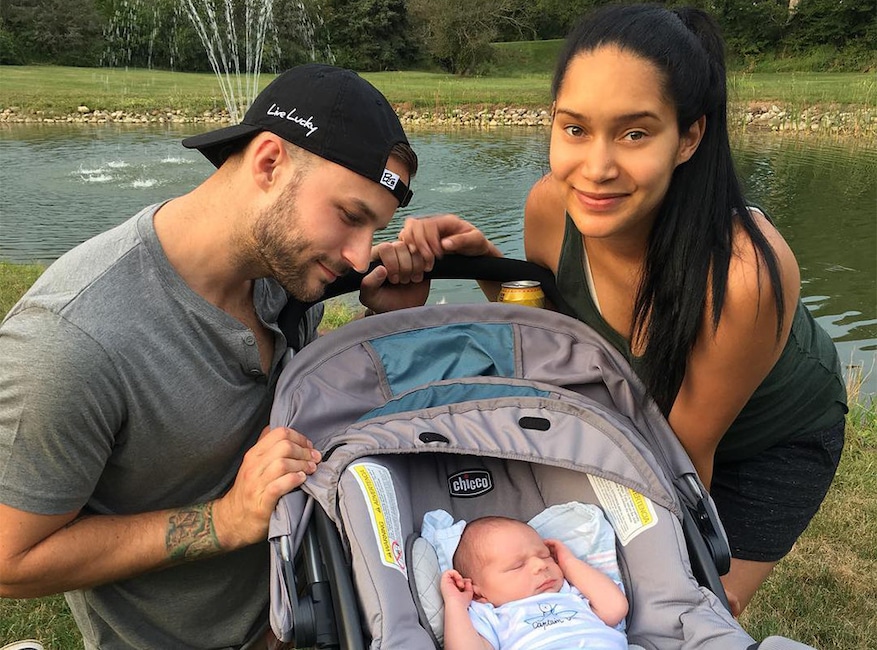 Instagram
Gianna Hammer and Hayden Weaver

The season five pair were the second AYTO couple to welcome a child, with Gianna giving birth to their son August in August 2018. While they were a confirmed "no match" during the season, they reconnected at the reunion show taping in March 2017 and have been together ever since.
Gianna announced they were expecting their first child together on Valentine's Day in an Instagram post showing off their sonogram, writing, "Happy Valentine's Day! This came as a big surprise to us and am I nervous HELL YEA but I'm super super excited to grow this little bean into a cute lil mini me (or mini Hayden)."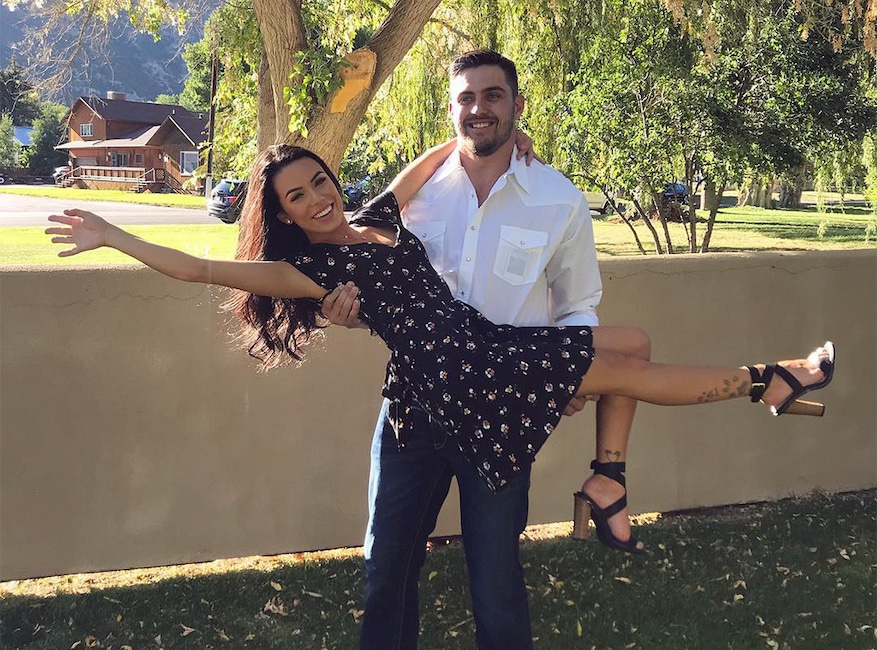 Instagram
Cam Bruckman and Carolina Duarte

Hayden's perfect match Carolina also ended up finding her happily ever after with Cam, who was a contestant on season four.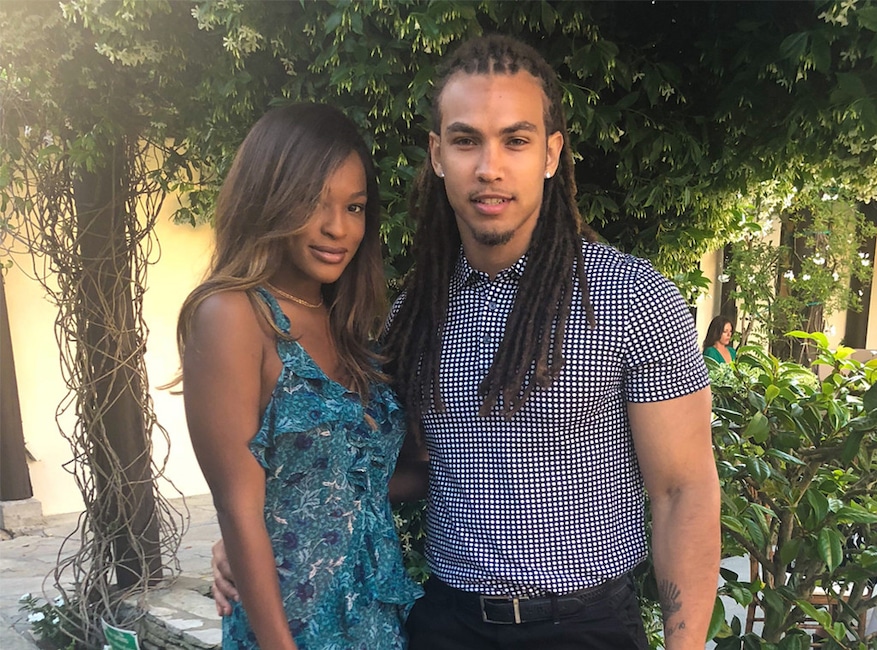 Instagram
Uche Nwosu and Clinton Moxam

The pair had an immediate and deep connection when they met in the AYTO season six house and struggled to stay away from each other after they were both devastated to learn from the truth booth that they were not a perfect match. But Uche and Clinton stayed together post-show and he asked her to officially be his girlfriend during the reunion. Awww! They recently moved in together this past summer, proving a "no match" was no match for this couple.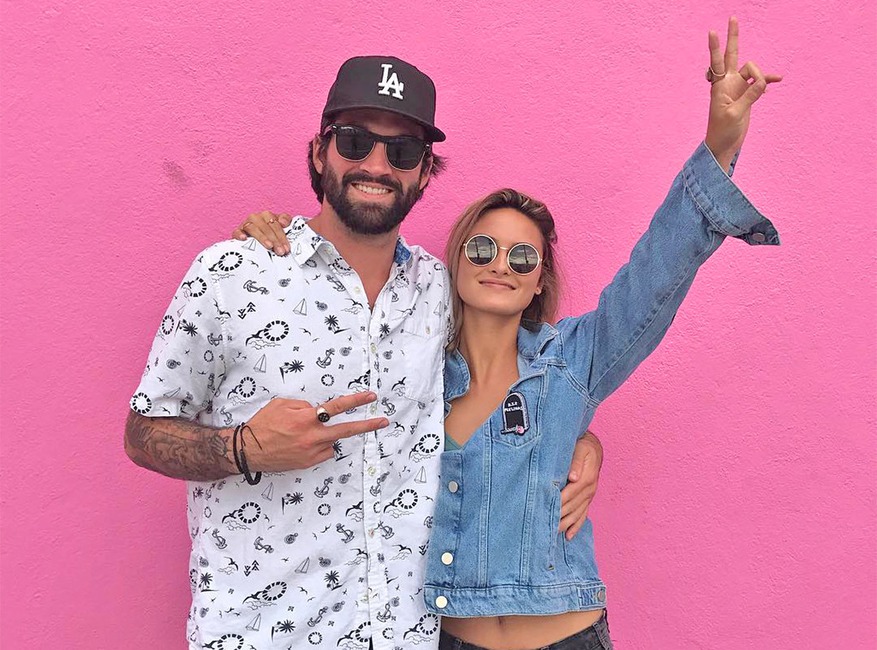 Instagram
Stephen McHugh and Julia Rose

Let's get to Cam's perfect match, yeah? She quickly hit it off with Stephen during the show, but they had a rocky road to romance after learning they were a no match early on in the process. They decided to date despite the experts' opinion and fans were shocked to learn Stephen had possibly cheated on Julia with Hannah, a season five cast member, during an after-show confrontation.
Julia called out Hannah for going on a trip to Las Vegas with Stephen, saying she broke up with him because of the rumors stemming from that meet-up.
"Why would he come to Vegas if he was in a relationship with you? Maybe you should ask him that," Hannah said. "You're coming at the wrong person." 
Still, they weathered the storm, and are currently together, busy promoting her clothing line.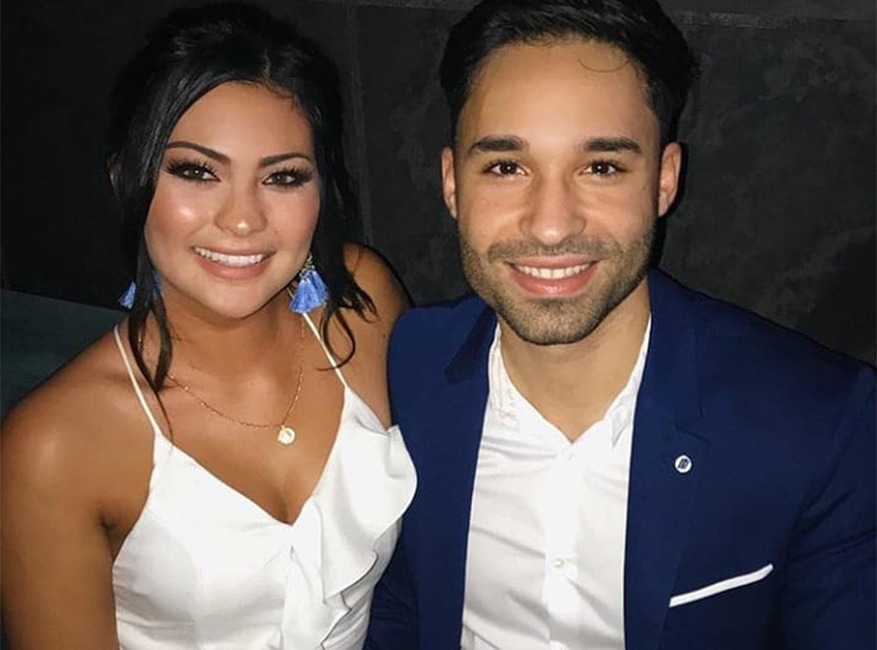 Instagram
Kareem Fathalla and Alivia Hunter

The season six couple was never a confirmed no match during the process, but didn't end up being each other's perfect match either after dating on and off throughout the show. Still, it was revealed during the reunion that they were together..and that Kareem had cheated on Alivia with Zoe Pugh post-show. However, Alivia admitted to texting with Keith Klebacher after filming, too.  (Neither Zoe or Keith were their respective perfect matches either BTW.)
While they split for a bit, they eventually ended up getting back together.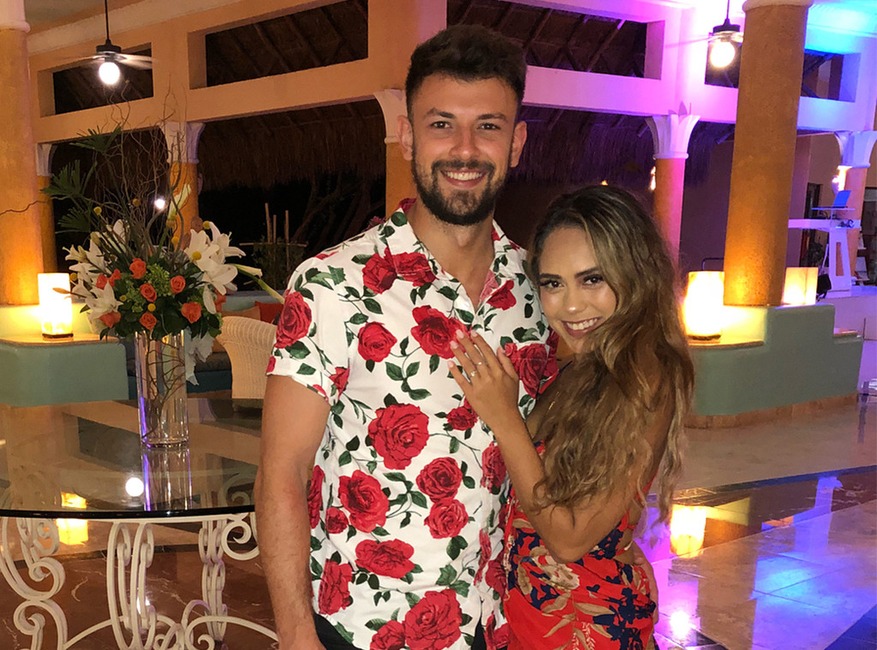 Instagram
Shannon Duffy and Anthony Martin

Though season five's Shannon had her heart broken when her cast became the first in AYTO history to not take home the $1 million prize (and she was partly blamed because she chose to stay with her no match Tyler O'Brien), she did end up finding love: She hooked up with season six's Anthony when they were introduced by Dimitri, also a season six cast member, who was trying to get with Shannon at the time.
"For whatever reason, it didn't work out," Dmitri said during the reunion. "But she has a great man in front of her right now, so I'm happy for them." Shannon and Anthony are still together.
Don't miss E! News every weeknight at 7 p.m., only on E!